Introduction to ERP Software
An Enterprise Resource Planning (ERP) Software is an integrated application that helps you to manage all the functions or departments of your business and stay ahead of the competition.
An ERP Software enables smooth flow of information across various departments helping them to work in sync towards achievement of your company's objectives.  Here is a pictorial representation of how ERP helps with integration of departments: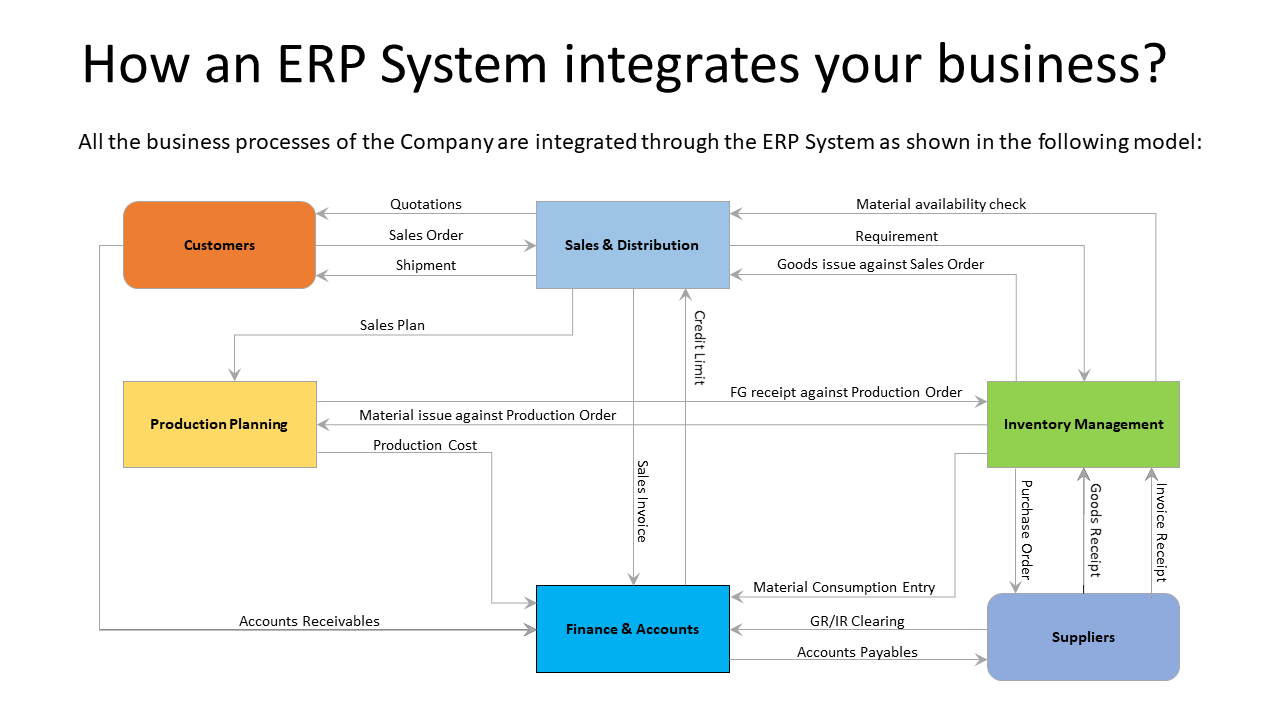 Why businesses need ERP Software?
The corporate world is competitive, highly demanding and challenging at the same time. Hence, business owners, especially the ones who run small businesses, have to put up extra efforts, so that they do not fall out of the race.
Many businesses fail to invest in technology making it difficult to run an office and have instant access to much-needed information. This leads to a lack of real-time business information such as sales figures, leads pipeline, customer details and complaints, and little or no visibility on finances.
Without the right infrastructure in place, such as the right systems, procedures, processes and controls, the business will standstill.
Benefits of ERP Software
Following are the key benefits of ERP:
All data relating to CRM, sales, operations and finance can be stored in one place.
Allows you to monitor how all the parts of your business are operating in real-time.
Helps your business to be more efficient since it provides a self-regulating workflow and reduces manual data entry.
Reduces the scope for errors.
Allows you to make decisions based on past performance and focus on activities that generate profit.
Important points to note before buying ERP Software
Selecting and implementing an ERP is a daunting task that requires an understanding of the business processes, commitment and expertise to align the system with the business processes. Hence we created a checklist for that helps in selection of the right ERP Software for your business. You can access the complementary ERP Software Evaluation Checklist for free.
According to Gartner, and IT Service Management Company, implementation failure rates exceed 75%. Reasons for high ERP implementation failure rates are:
Lack of commitment from Core Team members
Lack of understanding of the business and its process
Inadequate testing before go-live
Thus, you can opt for any of the ERP implementation companies in India or ERP Consultant to ensure an ERP software, with the essential system controls, is successfully implemented. This saves your time, energy and money which could otherwise be lost by poorly implementing an ERP Software.
An ERP implementation service is an ideal solution to ensure utilization of your ERP to its full potential.
Benefits of hiring ERP Implementation Service
An ERP consultant understands the language of business as well as software. This helps in bridging the gaps in communication between the ERP Software Company and your team. An ERP implementation service will also help to identify critical internal controls required to be configured in the ERP Software thereby ensuring integrity of data. The ERP Consultant helps with configuration, testing, training, and generation of reports from the SRP Software, handholding during the entire process of ERP software implementation.
Conclusion
To summarize, hiring a consultant from the best ERP implementation companies in India can help your business immensely.
Not only does it help you in successfully implementing an ERP software but also assist you to take care of the changing business requirements post ERP implementation, create better products, better delivery, and an improved customer experience and services.