What is a swim lane flowchart?
A swim lane flowchart is a method of documenting business processes. It explains its user the steps involved in a process for achievement of a certain objective and also it tells them who is accountable for those steps.
It helps your employees to understand the integration of departments/functions and the activities that will be interfacing with each other. It can also help to review the efficiency and effectiveness of the business processes by auditors and management and improve it for future.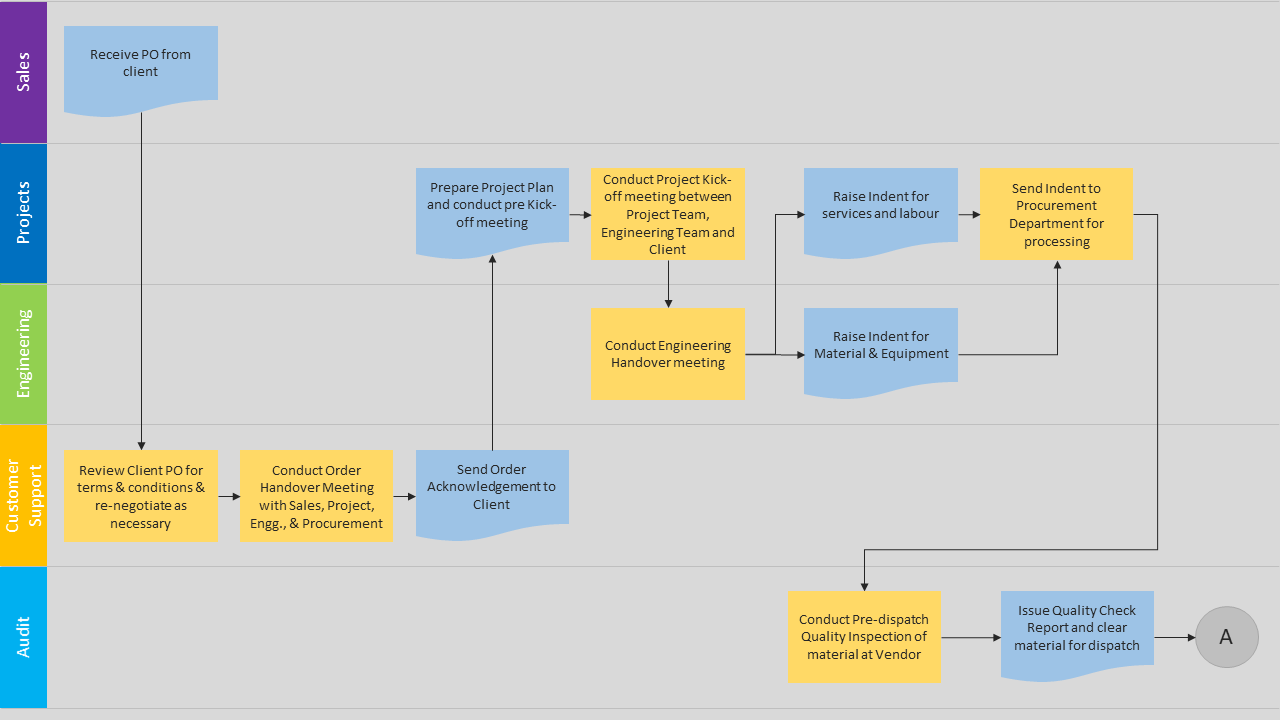 What's the difference between a swim lane flowcharts and other kinds of flowcharts?
Swim lane flowcharts are a branch of the more general flowchart family. Flowcharts are often used to represent a series of steps, a process, and the flow of information between departments and functions.
Swim lane flowcharts, as the name implies, are different because they symbolize the departments/function/person responsible as a series of multiple parallel lanes. Each lane is labeled as to what the lane symbolizes, and shows the process can be carried out by that department/function/person.
What is the purpose of documenting the business process?
Business processes needs to be documented because it is used to ensure that employees can successfully complete tasks, comply with company standards, and maintain consistency. For example, if you hire new workers that are unfamiliar with the company, it can be difficult for them to complete tasks that they may not know are expected of them.
Documenting processes ensures new employees are up to speed on the goals of the company, how to work with customers, and compliance standards. These processes also help to ensure that there is no confusion or miscommunication about the way tasks need to be conducted.
Not only does this help various departments to improve coordination, but it also improves customer service and helps to ensure a certain level of accountability.
Why we use swim lane flowcharts to document your business processes?
When documenting business processes, it's important to make them as simple to understand as possible. Swim lane flowcharts are easy to understand as they break down complex processes into simple easy to understand steps. They bring clarity on the instructions/steps involved in the business processes.
It allows to present process in active way, avoiding passive documentation. It also encourages them to remember the details of the process so they are not forgotten over time.
Creation of swim lanes is very flexible and easy to use. Also it is quite simple to implement. As the business changes over time, business process documentation should change as well. Being clutter free, swim lane flowcharts can be easily edited without difficulty.
How to use and share the business processes on a swim lane flowchart?
Flowcharts can be used on a day to day basis in form of checklists while performing a task. They can be used as a reference document to automate certain tasks of to upgrade systems.
It is also useful for auditors and consultants in understanding the business processes in detail without interaction with the process owners. A flowchart document that shares activities of different department can be shared online and collaborated on using tools such as Google Drive, Diagrams.net, etc.
Conclusion
Flowcharts are a really useful tool for documenting processes, A swim lane flowchart makes it easy to visualize and follow the steps involved. A swim lane flowchart also makes it easy to see the gaps and overlaps in processes.
Get your business processes documented as swim lane flowcharts and see the difference in efficiency and effectiveness of the processes.