Are you a medium-sized company with big dreams of becoming a large, well-organized corporate entity? Do you struggle to find the right tools and strategies to achieve your growth objectives? If so, I want to share with you a powerful tool that has helped many of my clients achieve their dreams: the dashboard.
Let me tell you a story. One of my clients once said to me, "I wish I could monitor and manage my entire business from a single screen. A report that drives daily progress of my business." This sparked a conversation that led to the creation of a customized dashboard for their business. When I presented the dashboard to them, they were amazed by how much information they were able to access and how it could help them make better decisions. They immediately implemented the dashboard, and within a few months, they saw significant improvements in their business.
Inspired by this success, I started using the dashboard as a tool to help more clients achieve their growth objectives. The dashboard provides precise and insightful information in an easy-to-understand visual form that helps management take effective decisions. It's a report that drives the daily progress of the business, and it can be monitored and managed from a single screen.
Let me explain:
A dashboard is a tool that provides a visual representation of your business's key performance indicators (KPIs) and metrics. It collects data from various sources and displays it in an easy-to-understand format that allows you to monitor and manage your business from a single screen.
Dashboards typically consist of graphs, charts, and tables that provide an overview of your business's performance. You can customize your dashboard to display the metrics that matter most to your business, such as revenue, sales, customer satisfaction, website traffic, and social media engagement.
The dashboard can be updated in real-time, which means you can monitor your business's performance and make informed decisions on the go. For example, if your sales are trending downward, you can use the dashboard to identify the root cause and take corrective action.
Dashboards can be accessed from any device with an internet connection, which means you can monitor and manage your business from anywhere in the world. (see example below – a Production Dashboard for a manufacturing company)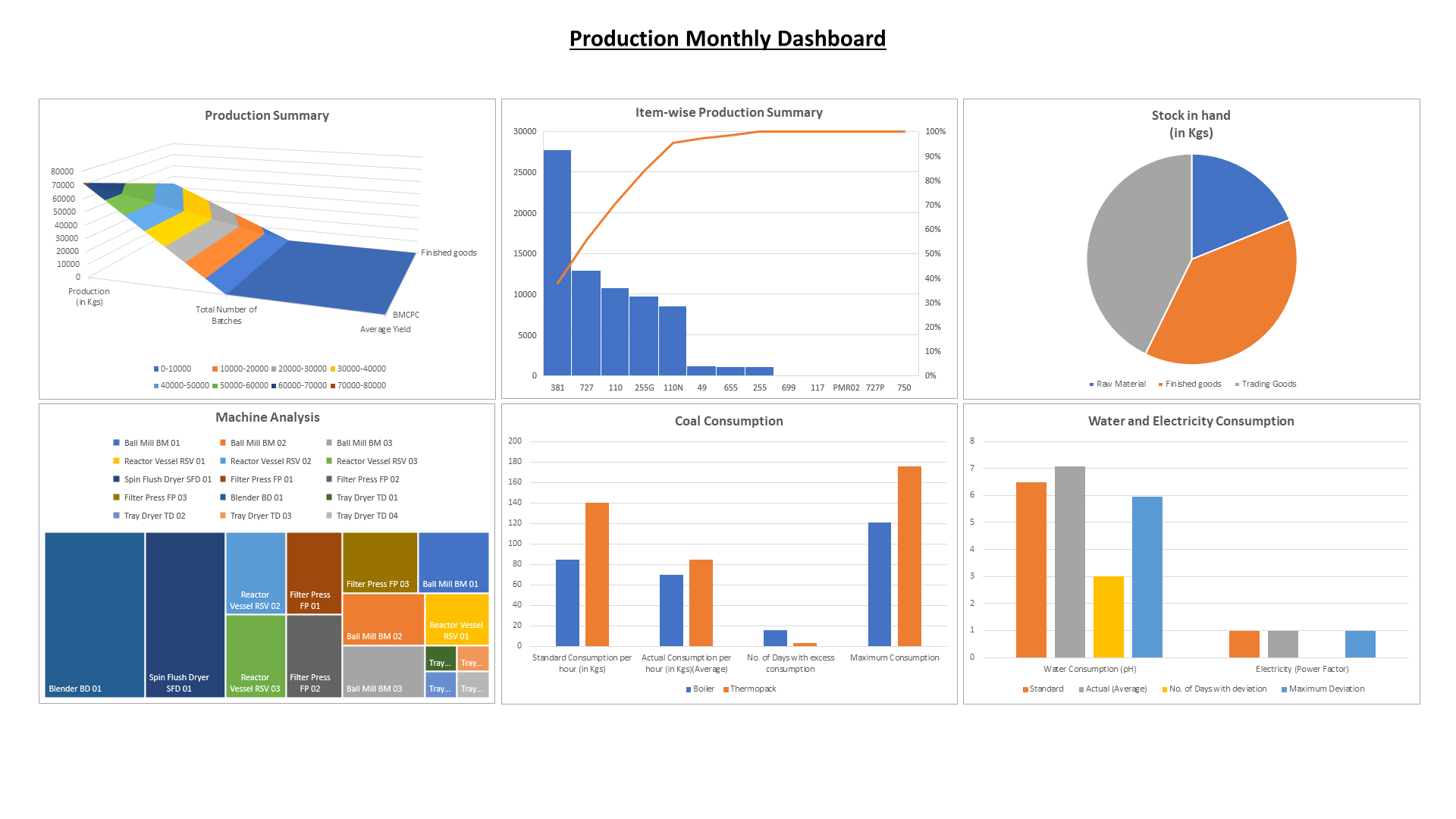 Now, I know what you're thinking. How is this any different from other tools and strategies out there? Well, the dashboard is a game-changer. Companies that use the dashboard grow exponentially faster than those that don't. They see an increase in revenue, profitability, and customer satisfaction. The dashboard has helped many of my clients achieve their dreams of becoming large, well-organized corporate entities.
So, if you're a medium-sized company looking to pivot and grow exponentially, consider implementing a dashboard. It could be the game-changer that takes your business to the next level. Don't just take my word for it. Let me show you how it works and how it can be customized to fit your specific needs and goals. Let's work together to achieve your goals.