Client Retention as a challenge
This service company was struggling with client retention. When they approached us, they said they already know why their clients were not happy with them. They had done a hypothetical root cause analysis of every client lost and had prepared a chart showing major reasons why the clients were leaving them.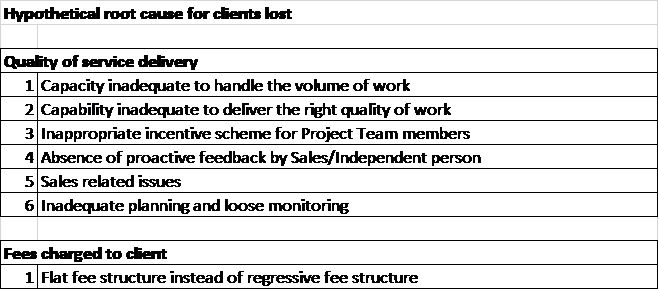 How we approached the problem of client retention
When we started working on their problem, we narrowed our focus on three major areas:
The client acquisition process.
The client communication process by the project manager during the tenure of the project.
The client feedback process.
The above three points provided a comprehensive and encompassing view of a client's entire journey with this company. Here's what we found and what we recommended to improve their client retention.
Client Acquisition Process
A lot of technical jargons were used in the communication, we simplified them to make sure client understands what they read and agree to.
Questions about client's expectations were inadequate, we increased the weight of questions that would provide a better understanding of the client's expectations.
Deliverables were not clearly communicated to the client. We re-designed the list of deliverables to ensure that their client clearly understood the level of difficulty of the project and the efforts involved.
Client Communication by Project Manager
The communication was not proactive, we insisted that the Project Manager engaged proactively with client.
The monthly report on project progress was not self-explanatory, we recommended that the metrics of project be explained to the client over a meeting, preferably in person.
Project manager did not recalibrate the expectation of the client at each progress review meeting, we introduced important questions as a part of this communication that would help gauge the expectation-delivery gap.
The Client Feedback Process
There was no formal feedback process. We introduced a feedback process at regular intervals of the project.
We designed a different Feedback Form for different stages of the project with specific time intervals, because as the project progresses, the issues and concerns of the client will also change.
Thefeedback process asserted that the project manager insists on a critical and honest feedback from the client which will help improve the services. This will also improve the confidence of the client on the company.
The Result
Over a period of one year, the above recommendations were implemented and absorbed. Since last three years their annual client retention rate has averaged at 92.76%.